The Rector of the Brno University of Technology Ladislav Janicek and the Dean of the Faculty of Electrical Engineering and Communication Technologies Vladimír Aubrecht attended the opening ceremony of the Czech National Exposition at the International Engineering Fair. This exposition includes exhibits of the FEEC, which were created thanks to the long-term cooperation between the Department of Telecommunications of the FEEC and the Ministry of Industry and Trade of the Czech Republic. There are therefore several demonstrators on display, which reflect the main theme of this year's MSV, which is Industry 4.0 and the digital factory.
"In cooperation with Vodafone Czech Republic, we have achieved multifold higher transmission speeds and, in particular, significantly lower communication delays, which enables the introduction of scenarios for real-time robot control," says Pavel Mašek from the Department of Telecommunications of the FEEC about the first of the demonstrators.
The second demonstrator is an example of smart meters for remote reading and control. This is not an application primarily for industrial premises, but for end customers, where optimization of electricity consumption is a key issue, and so it is possible to control or change meter parameters in near real time and also to react appropriately to sudden situations, such as floods, after which a complete blackout of a certain area may occur. Electricity meters use special technologies for the Internet of Things, which are part of 5G networks and thus it is possible to communicate wirelessly even in previously inaccessible locations.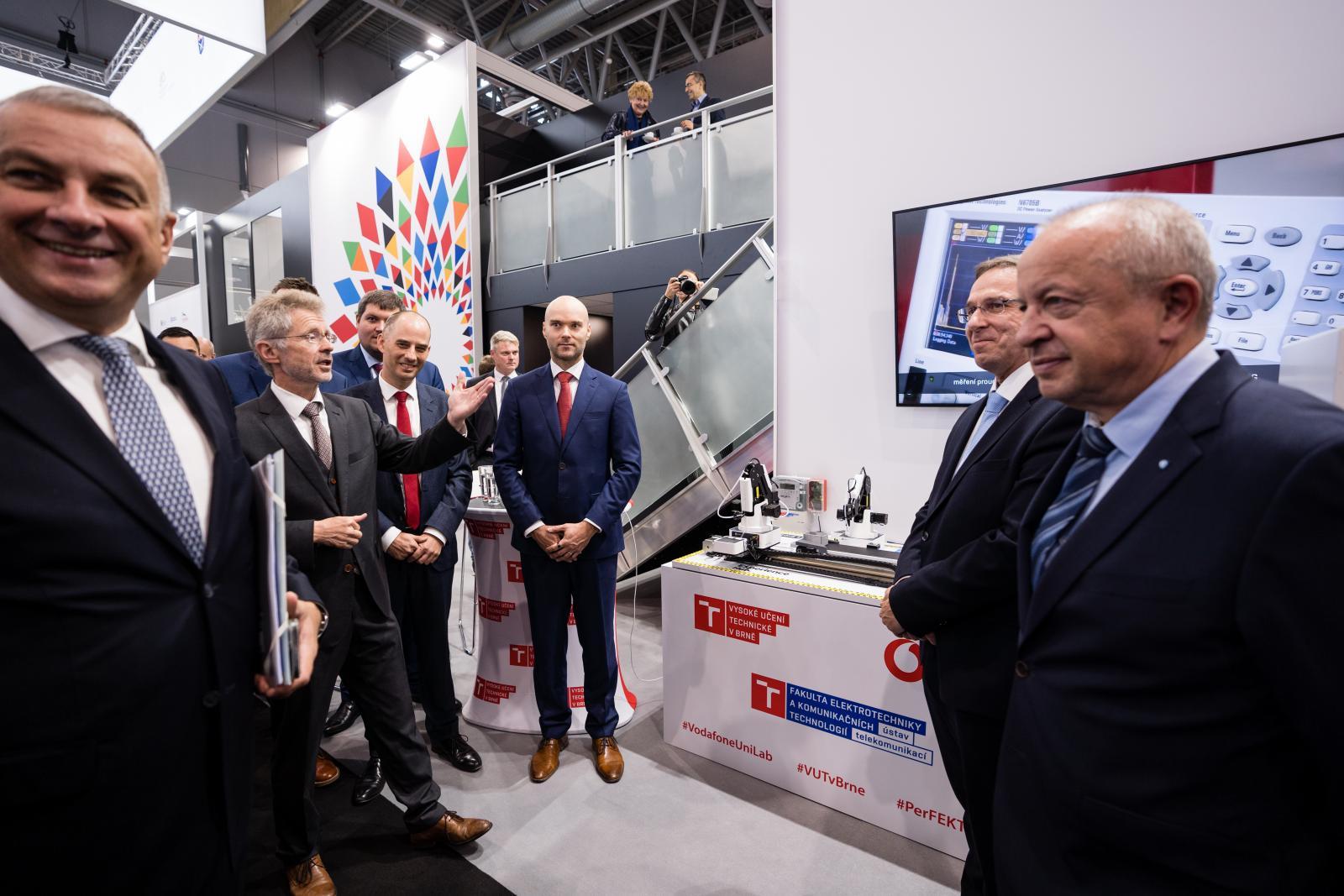 "Specifically, it concerns cooperation with the 5G working group at the MIT led by Ing. Jiří Holoubek, President of the Electrical and Electronic Association of the Czech Republic (ELA). The active contribution within the 5G working group by the Department of Telecommunications has accelerated the definition of key communication scenarios for the industrial Internet of Things and Industry 4.0. The proposed communication principles were translated into practice in the form of demonstrators, which serve primarily as examples of 5G technology integration for small, medium or large enterprises," explains Pavel Mašek the process of creating the cooperation and the exhibition.
Come and see the demonstrators of the automated robotic line and smart meters using the newly emerging 5G communication technologies by the end of this week at stand 11, Hall P, Brno Exhibition Centre.
Photo: Jan Prokopius